2.1.

Understand the interface of GeoServer#

After logging in to GeoServer, now focus on the layout.

As you can see in the screenshot below, the GeoServer Web interface has three main areas.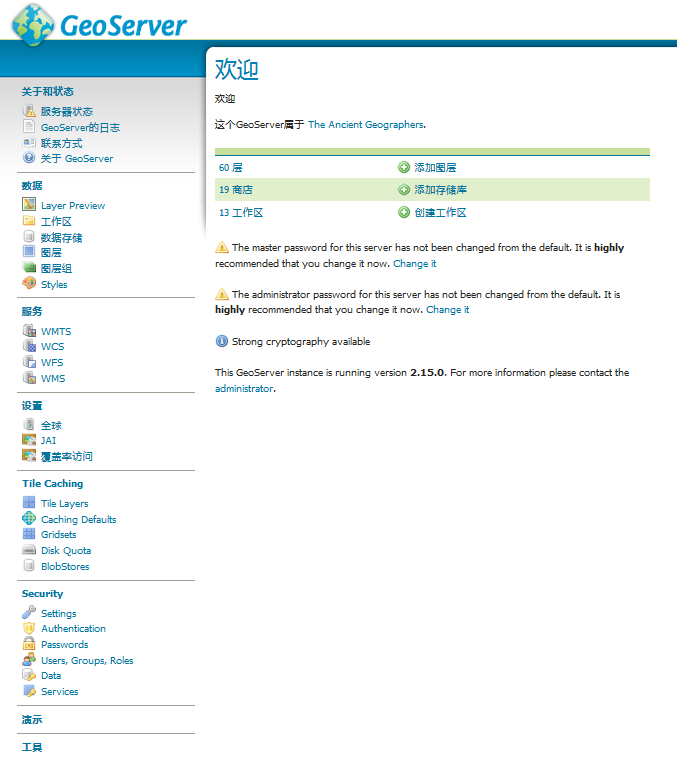 The central area is where the information is displayed; the elements in it vary depending on what you do. After logging in, it will show you brief information about the configuration data, as well as warnings or errors that should be corrected. The version number is displayed at the end, and there is a link to the administrator's mailbox.
On the right, a list shows the capabilities of GeoServer. The acronyms listed refer to the standard OGC protocol; We will discuss some of these protocols in detail, each of which supports at least one version. These numbers are links to XML documents that describe exactly what data and operations are supported by each protocol. They are an invaluable resource for customers willing to use your services.
On the left, a directory lists the configuration areas. Each area contains links to administrative actions. When you click one of the options, contextual options are displayed in the central area. We will explore each area in the next paragraph.